Certificate of Incumbency
Certificate of Incumbency is a letter/ certificate normally issued by the Registered Agent, it has no mandatory or fixed format.
The Certificate of Incumbency will show when the company was incorporated and the current structure. This includes a the country of registration, the registered office address and information on the directors and shareholders, often required for a bank account.
If we are the registered agent for your company we can provide the Certificate of Incumbency because, we hold copies of your company registers. We can legalise your Certificate of Incumbency and arrange it being Notarised and Apostilled.
The Certificate of Incumbency can include:
Incorporation Date of the Offshore Company
IBC registration number
Confirmation that company is in Good Legal Standing
Registered Office address  – where the company registers are kept
Current Company Directors
Date of Appointment of the Directors
Current Shareholders details
Number of shares held
Authorised Share Capital
Information on Mortgages or fees
Confirmation that no measures are in place to close the company
No proceedings are pending or threatened against the company
Signed and authorised by the Registered Agent
Certificate of Incumbency examples
Certificate of Good Standing
An alternative document we can provide is a Certificate of Good Standing which is provided by the Companies Registry and confirms the company status.
The Certificate of Good Standing is an official company document issued by the Companies Registry that confirms that a company has been in continuous, unbroken existence since its incorporation.
Company Search Report
If it's not your company we can in addition provide by email a Company Search Report from the Company Registry with the current company status and latest details filed at the registry.
Certificate of Good Standing examples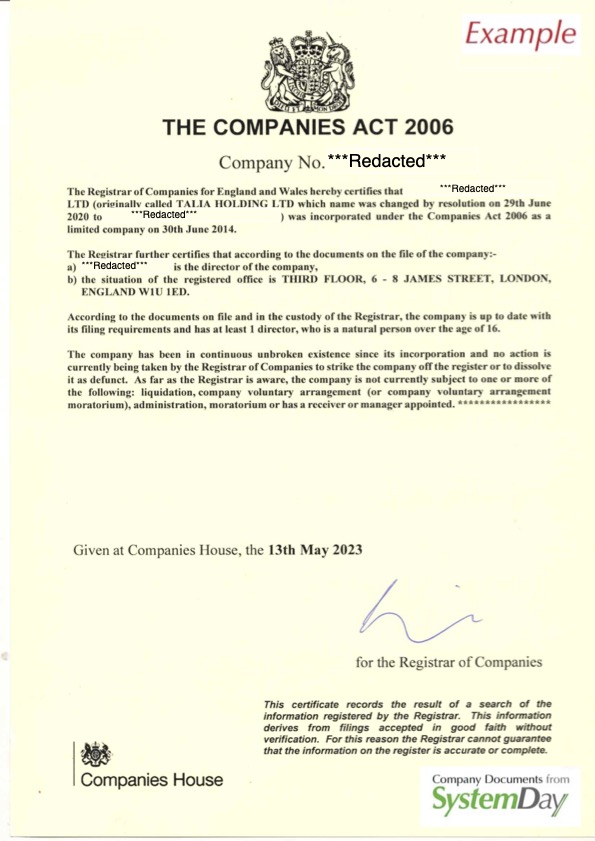 Order a Certificate of Good Standing
To proceed with ordering a Certificate of Good Standing we simply require the company name, we will then check the company file and status with the registry.
As soon a drafted by the registrar an electronic copy of the Certificate of Good Standing will be emailed through and the original can be couriered through where required.